If you are planning to visit Amritsar for your vacations then you will not disappoint. There are many famous religious and national tourist places which you will find interesting and unique. Checkout some of famous tourist attractions in Amritsar and near Amritsar.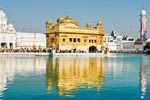 Golden Temple (Harimandir Sahib): The Golden temple is located in the holy city  Amritsar. The Golden temple is famous for its full golden dome, it is one of the most sacred pilgrim place for Sikh religion. The Temple is built on a 67-ft square of marble and is a two storied structure. Maharaja Ranjit Singh had the upper half of the building built with approximately 500 kg of gold . The Golden Temple is surrounded by a number of other famous temples like the Durgiana Temple which is famous Mandir of Hindus. The fourth Guru of Sikhs, Guru Ram Das, who had initially constructed a pool here, founded Amritsar, which houses the Golden Temple or Harmandir Sahib. It is here that Sage Valmiki wrote the epic, Ramayana. Rama and Sita are believed to have spent their fourteen-year exile in Amritsar, the epicenter of Sikhism. To the south of the temple is a garden, and the tower of Baba Atal.  The 'Guru Ka Langar' offers free food to around 20,000+ people everyday any visitor can enjoy free breakfast,lunch and dinner here.  Any Visitors to the Golden Temple must remove their shoes and cover their heads with handkerchief before entering the temple. The temple is less crowded in the early mornings on weekends.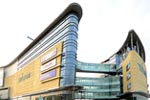 Trilium Mall Amritsar : Trilium mall is one of the biggest Mall of punjab that is located on Circular Road in Amritsar. This mall helped and provided residents of Amritsar and tourist a global view toward shopping.This huge mall has most of world famous brand of clothing,technology and food. As a tourist you must visit here.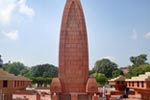 Jaliawala Bagh : jaliawala bagh associated with freedom fight of India. In this place on 1919 british killed hundreds of innocent people wh were gathered for peaceful seminar.There is well here which is called Khooni Khooh  which means well of blood because several innocent people died here.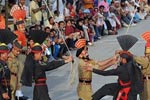 Wagah Border:The international border between India and Pakistan is in Amritsar. The pomp and pageantry of the Beating Retreat and the Change of Guard within handshaking distance of the Indian and Pakistani forces makes for a most charming spectacle.